The population of Singapore has a very high standard of living and is often called « Switzerland of Asia ». In 2009, Singapore recorded the highest concentration of millionaires to total population reported ahead of Hong Kong, Switzerland, Qatar and Kuwait. Its technology and its strategic position on the globe and multiculturalism makes it a wonderful mix of what is best from the orient and occident.
Singapore is one of the most popular tourist destinations in the world. But it's not always easy to find fun activities that are not too expensive. That is why I prepared a list of things to do for fun in Singapore without breaking the bank. Believe me there are lot of things to do; just not enough time or money.
A first major cultural activity in Singapore is eating. Singapore is a food paradise.
You can find all styles of cuisine: Indian, Malay, French, Italian, Chinese, Korean … In a wide selection of places to eat at all prices in different ambience and atmosphere
Here's a short list of some places I have visited
Le picotin
A family restaurant with a rustic bistro European style, located at Bukit Timah on Turf Club Road. It offers a bit of greenery and countryside in the city. Its solid wood tables and chairs are surrounded by a perfect outdoor terrace overlooking an equestrian centre. There are small animals farm to entertain children. A good way to relax on a sunny weekend afternoon. We can afford a steak and a Belgian beer for a little more than $ 20, pizza on wood fires and cheese platter can also be enjoyed. A little fancy, but not too pretentious.
(100 Turf Club Road, Singapore 287992, tel: +65 6877-1191 www.picotin.com.sg)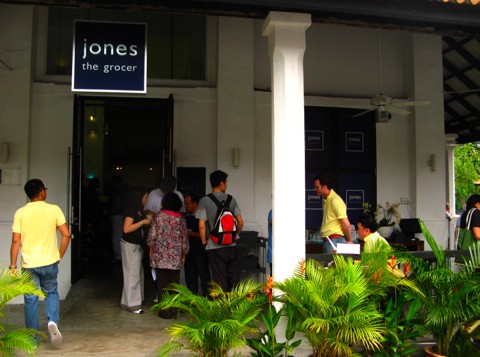 Jones the Grocer
Australian delicatessen cafe located in Dempsey Hill; a greenery area. Very popular for brunch on Sunday afternoon. There was a long queue before we entered; the service was ordinary, but for a small taste of countryside and good coffee it's worth a visit. A bit pretentious for what I enjoyed. A perfect place for the "Desperate Housewives" to drowned their sorrows in champagne and blue cheese.
(Block 9 #01_12 Dempsey Road, Singapore 64761512, Singapore +65 64761512)
Ikea
It's not just the Swedish furniture that is popular. On Sunday evening s and practically every day of the week, hundreds of expatriates and Singaporeans come fill their bellies in the cafeteria of the giant of kit furniture. Get the Swedish meatballs, smoked salmon, Arctic shrimps or the giant chicken wings. The luxury school cafeteria is a self service casual dining. It's just hard to deal with the queue and even more difficult to find an available table to eat. Remember the $ 1 hotdogs at the first floor to help you wait until your furniture is ready.
Ichiban Sushi
Another Japanese restaurant with a nice rotating conveyor. It's quite harder to resist the temptation than many other similar restaurants. The sushi is fresh with a nice yummy presentation. The menu offers a wide selection and it's hard to choose among sukiyaki, assorted sushi and luxury ramen (Udon). The food is varied and satisfying; the place quiet and comfortable while service is courteous. For less than $ 25 it was a hard time to go home with a full tummy; do you have a wheelchair?
In the sushi techno series, Sakae Sushi is a trendy restaurant group that tries to integrate technology with healthy eating. The sushi conveyor, which offers different choices of assorted sushi on coloured plates, ranging from $ 2.00 to $ 6.00. The choice is not very large and the sushi are not very artistic, without personality and we doubt sometimes of the freshness. There is also a computer at your table to place your orders. Do not click too much, because the bill is increasing quickly. The « a la carte menu » includes some nice surprises. There is also a buffet, but I'm not too sure it deserves the title of being the best sushi in town.
kichi Kichi
It is an « all you can eat » rotary hotpot, you can design your own hotpot from a soup base by choosing from nearly 60 ingredients, which passes under your noses. Here are some thing I have noticed : the drinks are not included, the tables and counters are a bit squeezy. Uncontrolled children can make your dinner a bit rock'n'roll, each plate contains only 4 slices of meat, you must make a twin tower of plate before eating. The only pro was their tasty homemade sauce, but it is not the sauce that made the whole buffet.
Seoul Garden
Korean BBQ « all you can eat » buffet $ 25 per person all included in the evening. I love to fill-up myself there a few times a month. The place is pretty big yet cosy; we have our own grill and our own hotpot. You choose your soup and run to grab the nice 10 varieties of marinated meat such as chicken teriyaki. There are also shrimp, fish, squid, vegetables, salads, sausage and more. As if that was not enough for you , they have got pasta, chicken general tao and a lot weird Asian dessert. Despite its gigantic size, the buffet stays safe, clean and fun. Ventilation could be improved, don't go to a date after having a meal here because your smell will attract more hungry cats than lovely ones.
http://www.seoulgarden.com.sg/
Apolo banana Leaf
An Indian restaurant in « Little India » where you can enjoy a good traditional curry meal. The portions are generous and spiced to perfection. Everything is served on a banana leaf with our choice of rice and vegetables in a creamy sauce. You can even eat with your hands if you want to perfect the experience thoroughly. It's not just for tourists; there are many Singaporeans and Indian folks who share huge tables where a dozen guests could be seated. The menu is impressive and it is hard to choose. The service is a little messy. Take plenty of dishes and share them with a beer is even better!
http://www.thebananaleafapolo.com/
Au Marche
Upon entering, you are literally immersed in a countryside Swiss market atmosphere. The decor is full of nice little gem for eyes and stomach. Many Small theme booths scattered around offer fresh ingredients and chefs to prepare our food in front of our eyes. We need only to present a smart card, that was given to us before seating, to the chef who adds the value of the selected food to it. There is a wide selection of food for all tastes. Grills, pizza, paella, pancakes, salad bar and more …A good place to visit if you want to eat acceptable quality Western food quickly. Remember that your smart card will be hungry as you were on your wallet
(VivoCity Mall, 313@Somerset)
After discovering the new Nex mall without a positive first impression. We decided to hit a good steak, a little break from rice and noodles ; our daily meal. We presented ourselves at Jack's Place; the room was almost empty, the staff assigned us a table quickly. The menu offers mostly New Zealand steak, chicken, seafood , in other words a steak house for middle-class family. The service is fast but sometimes slow, because with 8 employees and 14 customers we are far from being having a deficit of human resources. The view from our table overlooks the roof garden and water games for children. We ordered a filet mignon steak and a special jack combo with soup, dessert and coffee. The soup arrived quickly; even a little too quickly, it's a rather ordinary soup, the garlic bread instead is appreciated, I can not even remember what was in the soup. Maybe all left behind 🙂 The steaks arrived, they are thick and juicy to near perfection, it melts in your mouth. The tenderloin is offered dry without any sauce so I ask for the sauce and I can finally appreciate the true value of the meat. The portion of vegetables is small, the potato is saved by the sour cream and bacon. We cannot say the same of the neon green peas. The dessert is a fairly ordinary kind of jello with bits of fruit. A Good Overall, especially for its beef quality, service fast enough and comfortable tables. I'm glad to have tried the Jack Place. There is still much room for improvement for accompaniments. Remember Jack , a good steak with well accompanies is hard to beat. For about U.S. $ 50, it is not bad, but it needs a bit of add-on and glamour to be worth all pennies invested.
(Nex mall serangoon)
Coffee Shop
The « coffee shop » is the common kitchen of most Singaporeans. They can be found in most residential areas on the first floor of residential blocks. They are mostly open area site and looks like cafeterias. People go there for lunch about 13:00 or 18:00 to socialize with family, friend, co-worker or student. You can eat a decent selection of dishes from all Asian cuisines for around $ 5. Hainanese chicken rice, Peking duck, salmon, Japanese, Malay soup, Indian chicken curry, and Korean BBQ are always represented in the different places. Hard to find a place to sit down and choose the dish that will fill us from the wide variety of yummy choice.
http://www.mangovine.net/images/uploads/bishan-coffee-shop.jpg
The Food Court
This is also a very popular place to eat in the lion city. The main difference with the Coffee Shop is that the place is mainly located in the shopping malls, it's well decorated, spacious and air-conditioned. The dishes are generally the same as the coffee shop but with more choices and a little more expensive. Between $ 5 and $ 8, it remains the best place to eat cheap in Singapore and especially around Orchard Road.